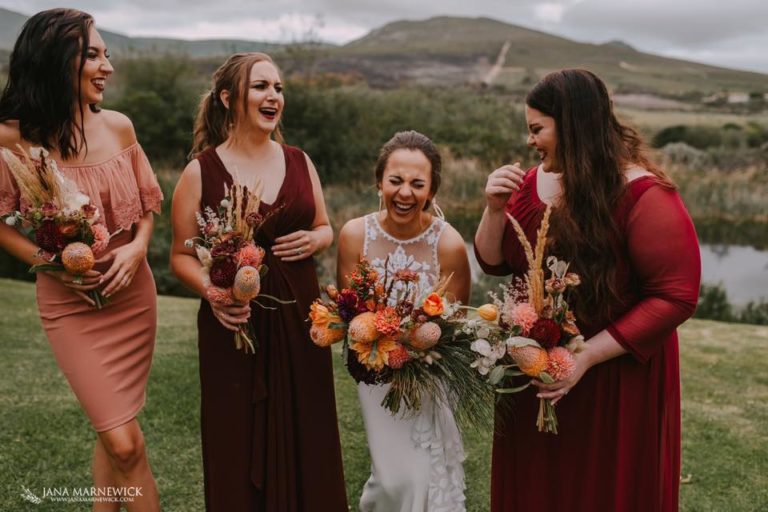 He popped the big question and of course you said YES!! At long last you can take your secret box of wedding planning out from under your bed, which you've had since you were about 8 years old, and you can commence on the journey of planning your most special day, your WEDDING DAY!!
Soon you start to see all your ideals and dreams crumble right before your eyes. What is happening? Your head is spinning from all the information that is being sent to you as you receive packages from the service providers you contacted. Numbers are racing through your head, bumping into all things budget and worst of all you are constantly on edge and fighting with your loved ones over ideas and pictures and venues and dresses, and and and…
Now is a great time to STOP. RE-EVALUATE. And most importantly to bring back the part of ENJOYING your wedding planning.
Yes, you have so many pictures and ideas of things you love but it is important to firstly sit with your soon to be hubby and chat to him about how he envisions your wedding day. It might surprise you what details he finds important or wants highlighted throughout the day. Secondly, categorize all the different aspects of the wedding and place the info you have already received under each category. This will help your brain to process the information better and help you to not make rash decisions based on emotions or monetary value. Once you have created these categories be realistic about the budget that you have. If a certain idea or provider falls outside of the bracket, decide whether it will really add value to your day, but most importantly, if it will be something that you remember 30 years from now when you think back at your wedding day. Adding structure to your wedding planning will also make it easier for you to clearly communicate your needs and wants to family members, your bridesmaids and your fiancé.
With all that being said, the thing that is vital to planning your wedding is to enjoy it. Your wedding day is the start of a new chapter in both your lives. It is the start of a life together as one and it is the start of a beautiful new journey. The foundation of this journey should not only be grounded in love but also in joy, and this joy starts at the very beginning, at the planning of your wedding. Let's be honest, if you had several fall-outs with loved ones about their role in the planning process, it will not only leave a bad taste in their mouths but also in yours and subconsciously you will not enjoy that part of the planning. Everybody in your immediate circle is just as excited about this union as you are. Use that positive energy to be joyous with them and share in special moments you might miss when telling people off. If difficult decisions need to be made, make them after you have discussed several possible outcomes, cried about it, released your emotions and can speak from a place of joy and reiterate their importance to the day.
There are a lot of stories out there telling us that planning your wedding is hard. There are articles and books and guidelines and personal tales of the struggles of wedding planning and how to overcome or manage these stressors, but in all honesty, all you need is balance. Wedding planning should not take over your life, jeopardise your job, lead to wight loss or gain – NO, if you can identify a specific time during your schedule for wedding planning and still work on your career, be active and spend quality time with friends, you are working from a place of joy, a place that makes you happy and a place that contributes to your imagination. There is no fullproof plan to making your wedding planning stress-free, but you have the power to choose to do it from a positive place and to enjoy every moment of it. You are not only allowed to be happy on your wedding day, the entire process should bring a smile to your face and make your heart flutter.
And I know you are sitting there, reading this post thinking that I might be delusional and probably never planned a wedding before and that this is all easier said than done, but let me reassure you that once you have tried it, once you have chosen to see the silver lining on the dark cloud, you will never go back. Our worries, and yes there are many when it comes to your wedding day, are all made into mountains in our heads. If you have assembled a team of service providers you love and trust, and you have clearly communicated with the venue and are aware of all the roles they fulfil throughout the wedding day, and you know that your bride's tribe has your back, no weather forecast or last minute cancellation should send your mind into a scurry. It is your wedding day, you make the rules and no guest knows what should've happened if something doesn't go according to plan.
Rather dance in the rain under the clouds of blessings falling on you and eat an extra piece of cake, just because you can.
Photo credit: Jana Marnewick Photography