Welcome to De Uijlenes, where love stories come to life amidst the beauty of nature and the warmth of family tradition. We are a proud family-run business, deeply rooted in the very soil that has been tended by generations of Groenewalds since 1723. Our journey in the wedding industry is fueled by a genuine passion for crafting professional, unforgettable, and stress-free wedding celebrations that reflect the unique personalities of the couples we are privileged to serve.
We cherish the opportunity to work with couples who are not just our clients but kindred spirits—those who embrace life with a zest for adventure, a love for all creatures great and small, and an unwavering devotion to family and friends. At the heart of our team lies an unquenchable thirst for human connection, and we take pride in ensuring that every guest who sets foot on our picturesque farm experiences a warm welcome, a sense of belonging, and a deep understanding of their desires.
With a meticulous eye for detail, we are committed to upholding the highest standards in every aspect of your wedding journey. Join us at De Uijlenes, where professionalism meets a touch of magic, and where your wedding dreams become cherished memories.
Erlien Krüger
Erlien Krüger is the dedicated and passionate wedding coordinator for the enchanting Old Barn & Forest venue at De Uijlenes. Hailing originally from Johannesburg, Erlien has gracefully embraced the charms of the Western Cape, making it her home for many years now. Alongside her husband and adorable small daughter, she has found her own slice of paradise in this picturesque region of the Overberg.
Erlien brings with her a wealth of experience within the hospitality and food & beverage industry. Her journey in this dynamic field has equipped her with invaluable skills and insights, making her the perfect orchestrator for your special day. With a keen eye for detail and a knack for seamless coordination, Erlien ensures that every aspect of your wedding runs like a well-tuned symphony.
One of Erlien's standout qualities is her warm and welcoming personality. Her down-to-earth nature fits in seamlessly with the close-knit team at De Uijlenes. She believes in fostering genuine connections with each couple she works with, understanding that your wedding day is a personal expression of your love story. Erlien's friendly demeanor and approachability make her not just a coordinator but also a trusted friend along your wedding planning journey.
Erlien is genuinely passionate about her role as a wedding coordinator. She finds immense joy in working closely with couples to turn their wedding dreams into reality. Her commitment to making your special day both unforgettable and stress-free is evident in every detail she meticulously oversees. With Erlien by your side, you can rest assured that your wedding at De Uijlenes will be a memory to cherish for a lifetime.
Erlien Krüger is the linchpin that holds the threads of your wedding day together, ensuring that every moment unfolds flawlessly. With her professionalism and light-hearted spirit, she is your go-to person to create the wedding experience you've always envisioned.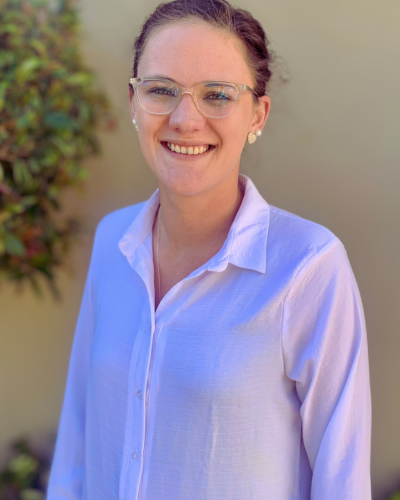 Juanita Pretorius
Meet Juanita Pretorius, the exceptional wedding coordinator behind the enchanting Nightjar Venue at De Uijlenes. With a wealth of experience and a passion for hospitality, Juanita has not only traveled the globe but has also left her indelible mark on the hearts of countless couples who have had the pleasure of working with her.
Juanita's journey in the hospitality industry has taken her to the far reaches of the world. Her extensive background has given her a unique and global perspective on what it takes to create memorable events. From exotic destinations to intimate gatherings, Juanita has seen it all and brings this international flair to her work at Nightjar.
Juanita is more than just a coordinator; she is a natural hostess. Her innate ability to connect with people shines through in every interaction. She believes that every wedding tells a unique story, and she's genuinely eager to hear yours. Juanita takes the time to get to know the couples she works with, ensuring that their personalities and love story are woven seamlessly into the fabric of their special day.
Juanita's warm and welcoming demeanor ensures that every guest feels right at home at Nightjar Venue. She possesses the remarkable gift of making everyone feel valued and appreciated. Your wedding day is as important to her as it is to you, and she goes above and beyond to ensure that it's a day you'll treasure forever.
Juanita has an unwavering commitment to excellence. Her meticulous eye for detail is second to none, and she constantly pushes herself and her team to elevate their standards. With Juanita, you can trust that no stone will be left unturned in the pursuit of perfection for your special day.
Juanita Pretorius is not just a wedding coordinator; she's your partner in crafting a wedding experience that exceeds your wildest dreams. Her professionalism, genuine nature, and passion for perfection make her an invaluable asset to Nightjar Venue and an advocate for your love story. With Juanita by your side, your wedding at De Uijlenes will be a masterpiece in the making.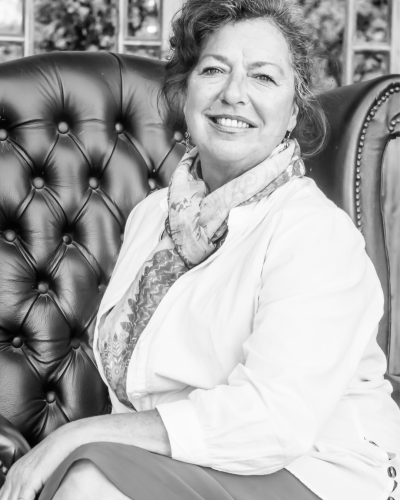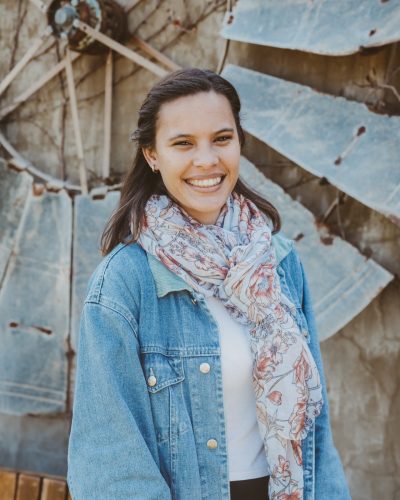 Accounts & Admin
Chelly Smuts (Accounts & HR)
Allow us to introduce you to the heart and soul behind the financial and human resources facets of our wedding venues: Chelly Smuts. Hailing originally from the beautiful Cape Town, Chelly has not only found her professional calling but has also built a loving family of her own, with a small bundle of joy that brightens her life every day.
When she's not immersed in the world of numbers and HR, Chelly enjoys staying active and keeping fit. Her passion for fitness is most evident on the netball court, where she proudly represents the local netball team known as "The Seastars." She approaches her game with the same determination and dedication that she brings to her work.
Chelly's modest and shy demeanor might be your first impression, but don't be fooled—beneath that initial reserve lies a heart full of laughter and warmth. Her sense of humour is as boundless as her loyalty, and she is always ready to share a good laugh with her colleagues and clients alike.
As the financial and HR specialist for our wedding venues, Chelly plays a vital role in ensuring that everything runs smoothly behind the scenes. She takes immense pride in her work, especially in helping our couples navigate the financial side of their dream weddings. Despite her initial shyness, Shelly has an uncanny ability to build fast and genuine friendships with our couples over the phone. She understands the importance of trust and transparency, and she is there to guide you every step of the way.
Chelly Smuts isn't just an essential part of our team; she's a trusted partner in your wedding journey. Her professionalism and dedication ensure that the financial aspects of your special day are managed with precision and care. You can count on Chelly to handle every detail with the utmost diligence, allowing you to focus on creating cherished memories.
Chelly Smuts embodies the perfect blend of professionalism and approachability. Her commitment to your happiness and her love for laughter make her an indispensable member of our team. With Chelly by your side, you can rest assured that the financial and HR aspects of your wedding will be managed with the same dedication and care that you put into planning every other detail.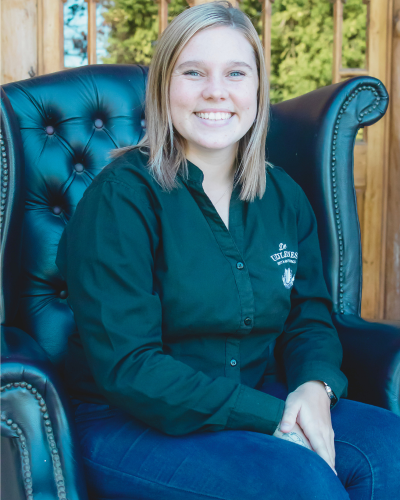 Jesyca Bernhardt (Event Administrator)
Allow us to introduce you to the logistical wizard and administrative maestro of De Uijlenes wedding venues: Jesyca Bernhardt. With a passion for precision and an uncanny ability to keep all the gears turning seamlessly, Jesyca is the embodiment of the type-A personality who ensures that everything runs like clockwork.
Jesyca's role as our Event Administrator involves overseeing a multitude of crucial tasks, from handling inquiries to managing accommodation and event bookings. She's the unsung hero behind the scenes, making sure every detail aligns perfectly. Whether it's a wedding, corporate event, or any special occasion, Jesyca is the steady hand that keeps the ship on course.
Jesyca's journey at De Uijlenes has been a remarkable one. Before transitioning into her current role, she served as a Wedding Coordinator, orchestrating beautiful weddings with meticulous care. Her transition to motherhood brought new joys into her life, and while she may have stepped back from full-time coordination, she still enjoys the occasional foray into the world of weddings when her expertise is needed.
What sets Jesyca apart is her unwavering passion for her work and her deep connection to the memories created at De Uijlenes. She is a constant presence in the journey of our couples, from their very first inquiry to the moment they bid farewell after their wedding celebrations. Jesyca takes immense pride in witnessing the joy and love that fill our venues, and she thrives on ensuring that every moment is nothing short of magical.
Jesyca Bernhardt is more than just an Event Administrator; she's a partner in your journey to create unforgettable memories. Her professionalism and meticulous attention to detail ensure that your special day, whether it's a wedding, corporate event, or any occasion, unfolds without a hitch. With Jesyca at the helm, you can trust that every aspect of your event will be expertly managed, allowing you to savour every moment.
Jesyca's dedication to her work, her love for creating memories, and her commitment to perfection make her an indispensable member of our team. She's the administrative powerhouse who transforms dreams into reality, one meticulously planned detail at a time.
Chef Maurice Marais
Prepare to embark on a culinary adventure like no other with the creative genius behind the sumptuous flavours of De Uijlenes: Chef Maurice Marais. Maurice brings an irresistible energy and flavour to our food that will leave you yearning for seconds, making him the heart and soul of our culinary delights.
Maurice leads a stellar team of culinary artisans, including Siya, Lerisha, Lucinda, and Gloria, who share his passion for culinary excellence. Together, they thrive on the art of creating menus that are a true reflection of our clients' personalities and tastes. Each dish they craft tells a unique story, making every meal an unforgettable experience.
At the heart of our kitchen, you'll find the dynamic trio of Chef Maurice and his two right-hands, Sous Pastry Chef Lerisha Anthony and Junior Sous Chef Siya Ketshana. Their partnership is a culinary force to be reckoned with, having not only revitalised our kitchen but transformed it into a hub of innovation and creativity.
Lerisha is the mastermind behind our exquisite wedding cakes, delectable pastries, and tempting desserts. She's not just about sweets; Lerisha also fires up our wood-fired bread oven daily, crafting fresh bread that's a true testament to artisanal baking.
Chef Maurice's culinary journey is deeply rooted in the land. Growing up between the vibrant city of Cape Town and the serene expanse of a Karoo farm, he developed an innate appreciation for fresh, local ingredients. His travels around the world exposed him to diverse culinary styles, fuelling his love for bold, spicy flavours.
Beyond the kitchen, Maurice is a devoted family man. He's married with two delightful daughters who have him wrapped around their little fingers. His love for life and fun-loving spirit are infectious, and he's the one who can effortlessly bring a smile to everyone he meets.
One of Maurice's greatest joys is working closely with our couples to create menus that are not just delicious but also deeply personal. He understands that food is an integral part of any celebration and strives to make it a memorable reflection of each couple's unique personalities.
Chef Maurice Marais is more than a chef; he's a culinary artist who paints with flavours, a storyteller who weaves memories into every bite. With his roots in the land, a global palate for spice, and a commitment to creating unforgettable menus, Maurice ensures that your dining experience at De Uijlenes is nothing short of extraordinary. From the first taste to the last, he crafts dishes that celebrate love, life, and the joy of sharing a meal together.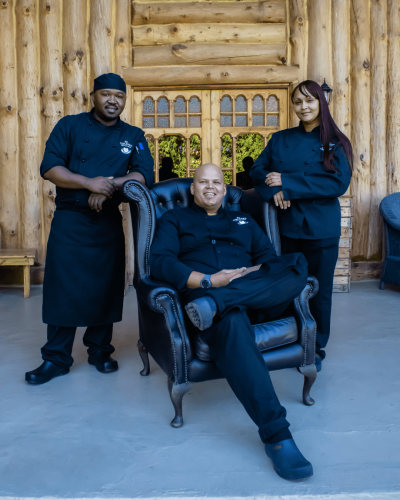 Liebenberg Kruger
Allow us to introduce the man who keeps the heart of De Uijlenes beating strong—our General Manager. Hailing from the rugged landscapes of Namibia, he's a true farm boy at heart, grounded and down to earth. With a background in managing 5-star lodges, he brings a discerning eye for detail and a commitment to high standards that ensure every aspect of De Uijlenes runs like a well-oiled machine.
Life has a funny way of bringing people together, and Lieben's story is no exception. He fell in love with a girl from Stanford, a charming village nestled not far from De Uijlenes. Their love story is a testament to the magic that surrounds De Uijlenes, where love and connections are formed in every corner.
In his spare time, you'll find our Lieben embracing the South African way of life. He shares his moments with their dogs, the wind in his hair on his trusty motorbike, and experimenting with the art of the "braai" (South African barbecue). He's a natural entertainer and host, delighting in bringing people together for memorable moments.
What Lieben cherishes most about overseeing weddings at De Uijlenes is the profound role he plays in the life stories of every couple who ties the knot here. It's not just about coordinating events; it's about being a part of the journey, a chapter in their love story. His dedication to making every wedding a reflection of the couple's unique journey is what sets De Uijlenes apart.
Lieben isn't just a manager; he's a guardian of love stories, a custodian of the magic that happens at De Uijlenes. His commitment to excellence, his love for life's simple pleasures, and his unwavering belief in the power of love make him an indispensable part of our team. With him at the helm, you can trust that your wedding at De Uijlenes will be a memorable chapter in your love story, carefully curated and lovingly executed.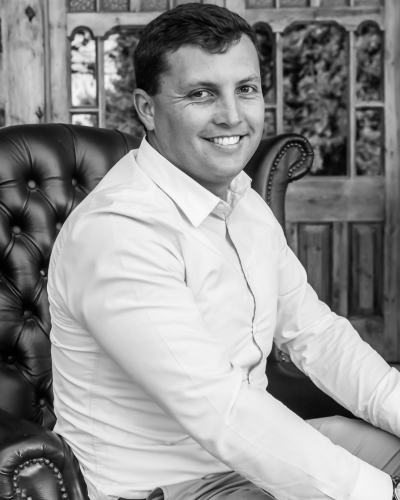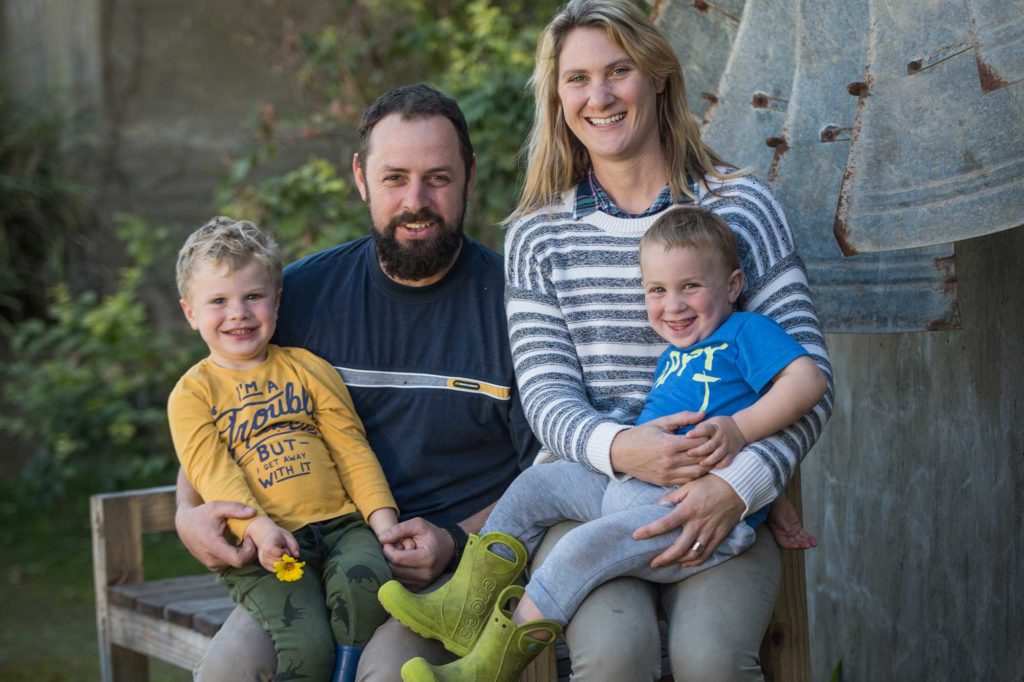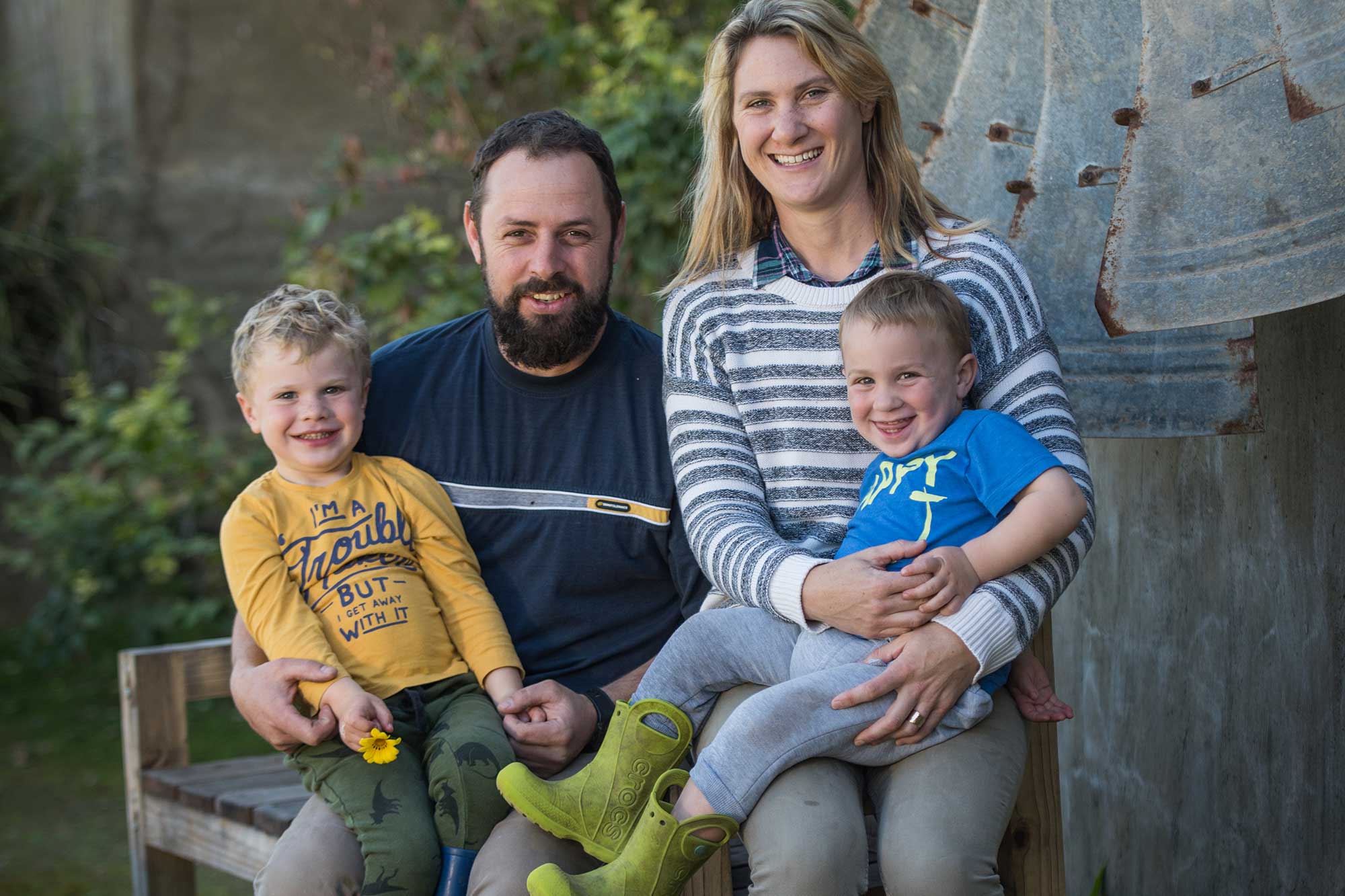 Flippie & Staci Groenewald
Every story has its beginnings, and the tale of De Uijlenes wedding venues is no exception.  Meet the dynamic duo at the helm of this remarkable journey: Flippie and Staci Groenewald. Their love story, interwoven with the Groenewald family farm, paints a vivid picture of dedication, love, and the creation of cherished memories.
Staci's journey began in faraway New Zealand, where she crossed paths with Flippie amidst the charms of farm life. Their love blossomed, leading to a pivotal decision that would shape their shared future. Together, they made the life-changing choice to return to South Africa, where Flippie proudly represents the 6th generation of the Groenewald family on the farm.
in 2010 and back on South African soil, Flippie and Staci embarked on a shared dream—to breathe new life into the Groenewald family farm. They set out to transform it into something truly special, merging their vision with the existing guest houses and historical farm buildings. Surprisingly, the inception of De Uijlenes wedding venues was a twist of fate, not originally part of the plan. Originally, they had envisioned hosting church and school camps, carrying forward Flippie's mother, Aletta's legacy—some may fondly recall her legendary cakes and bread.
What truly resonates with Flippie and Staci is that their beloved land and buildings now play host to the start of a beautiful journey for countless couples—a journey of love and marriage. Over the years, they've had the privilege of crossing paths with numerous remarkable people and families, creating enduring memories in the process. Their hope is that the legacy they build, both for the next generation of Groenewalds and the couples who choose De Uijlenes, continues to be a tapestry woven with love, joy, and cherished memories.
Presently, Flippie finds solace in the embrace of the land, tending to animals and nurturing vegetables on the farm. Meanwhile, Staci continues to be a driving force behind the business as the dedicated Marketing Manager. Amidst it all, they balance the joys and challenges of raising their three lively children—Neël, Patrick, and Pippa.
Flippie and Staci Groenewald aren't just the owners of De Uijlenes; they are the stewards of a legacy, the caretakers of love stories, and the creators of lasting memories. Their commitment to preserving the farm's heritage while crafting new beginnings for countless couples is a testament to their love for this land and their dedication to making each wedding at De Uijlenes an unforgettable chapter in a lifelong journey.
Behind the scenes of De Uijlenes wedding venues lies a team of incredible individuals who are the driving force behind our operations. They are the heartbeat of our establishment, ensuring that every wedding and event runs seamlessly and beautifully.
Our dedicated team arrives with a warm smile for every wedding and event, embracing the joy of each celebration. They are the friendly faces that make you feel instantly welcome, ensuring that your special day begins with a sense of warmth and hospitality.
Our meticulous cleaning team plays a crucial role in maintaining the impeccable appearance of our venues, wedding after wedding, event after event. They work tirelessly to ensure that every corner of our spaces sparkles, creating the perfect backdrop for your cherished moments.
Our garden and maintenance teams are the unsung heroes who work year-round to keep our grounds and historic buildings in pristine condition. They ensure that the natural beauty of our surroundings shines through, creating an enchanting atmosphere for your events.
Every member of our team plays a vital role in making each event at De Uijlenes a resounding success. Their hard work, dedication, and commitment to excellence are the cornerstones of our operation. Without them, our venues would not be the thriving hub of love and celebration that they are today.
At De Uijlenes, we are immensely grateful for our exceptional team. Their passion, dedication, and unwavering commitment to creating unforgettable moments are what make us stand out. Together, we work in harmony to turn dreams into reality, ensuring that every event here is a true success.
Flowers, Decor & Lighting
Meet the dynamic duo behind our recommended decor company, Christien and Nel—a husband-and-wife team that brings a touch of magic to weddings at De Uijlenes.
Christien and Nel are our go-to local suppliers for flowers, decor, lighting, and rentals, adding that extra layer of enchantment to your special day. Their creative flair and attention to detail ensure that every corner of your celebration is adorned with beauty and elegance.
What sets Christien and Nel apart is their unique perspective. Before venturing into the world of decor, they served as coordinators right here at De Uijlenes. They know the ins and outs of what works, what doesn't, and how to transform your celebration into something truly amazing.
Trust in Christien and Nel to turn your vision into reality, making your celebration look absolutely stunning. With their experience and creativity, they are the perfect partners to add those exquisite finishing touches that will make your wedding unforgettable.