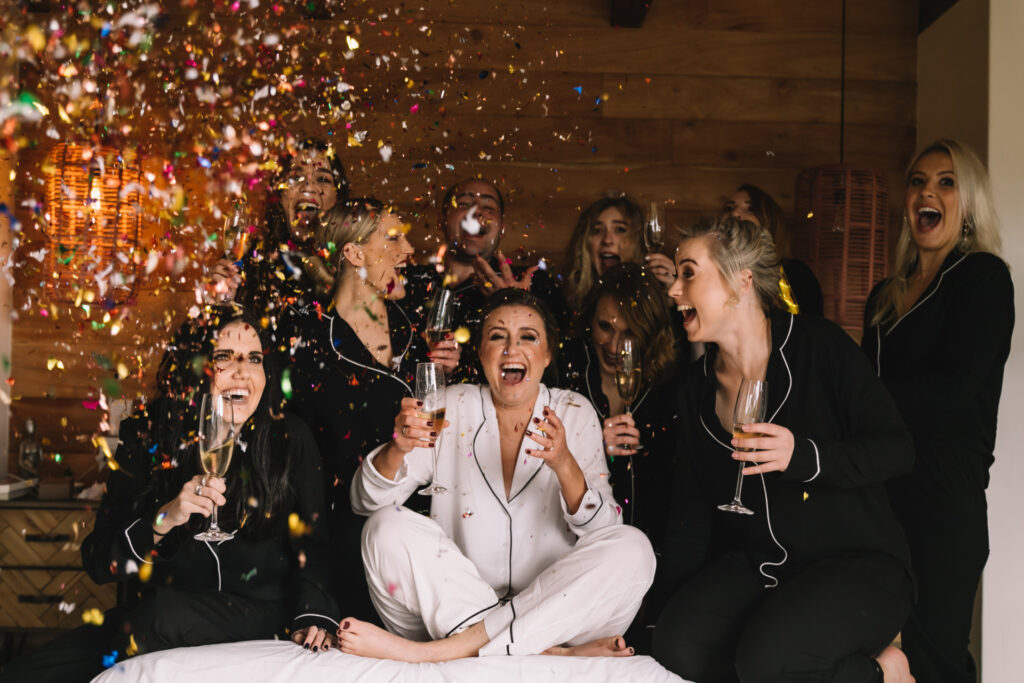 In a world and time that is social media driven and with the pursuit of perfection that is constantly putting pressure on everyone to have that instagram worthy wedding, how do you have a stress-free celebration with all of your family and friends in one place?  And not get hung up on all the BS?  Here are a series of Blogs to help guide you towards a celebration that will not only be free of any stress, but also one that will be kickass and full of happy memories.  Here's the first tip:
Make it easy for your guests to attend.
Having all the people you want at your wedding isn't as easy as it once was.  Our social radius is much wider with family and friends living all around the globe.  Friends are just starting out in their careers or businesses and have to work, or they have other commitments that will prevent them from attending your wedding.  Children, pets, money, health. 
You'll never be able to make it convenient for every guest, but if you follow our advice, you will be able to minimise the number of disappointing no-shows.
Secure your venue to set your date – Nothing can really happen with when you get married until you know where you're getting married.  The biggest mistake is to send out a Save The Date, then find the venue, or venues, you had your heart set on aren't available.  So, work with your venue to get the date you want, and be flexible, come armed with a bunch of workable dates that fit in with both you two and your direct family and friends.  You don't want to find out after that your future mother-in-law has surgery scheduled two days before the date you have chosen.  If you want to know when you should start looking for a venue, the simple answer is ASAP if you don't want to miss out.
Give guests plenty of warning – It's obvious that it's easier for guests to organise to attend your wedding if they get plenty of warning with a save the date email/card and invitations.  Depending on circumstances, six months to a year is about right.  If overseas travel is involved, you might want to stretch that a little further.
But not too much warning – Much beyond a year to 18 months, then it's often too difficult for people to know where they'll be and what commitments they'll have.
Work with the seasons – Winter weddings are a great idea to save some money.  And, some people like the cosy feeling of a wedding held largely indoors.  Be aware though that some guests, particularly elderly ones, might be put off by an outdoor ceremony in low temperatures, which also could apply to early spring and late autumn.
Avoid long weekends and holidays – Being a holiday, it'll be easy for guests to attend right?  Actually no.  People often have plans for long weekends and you will find yourselves competing with family holidays and other commitments, festivals and the like.  Often these have been booked and organised before your invitations have even gone out.  Another reason not to choose a peak travelling time of the year such as school holidays and public holidays is because the price of flights almost double over these peak times.  This puts more pressure on your guests financially to attend your celebration.
Organise transport – Even if your wedding is held in your home town or city, transport to and from the wedding can be a problem.  With rising petrol and diesel prices, organising a coach or bus will help relieve any transport pressures your guests have.  And, that way the festivities start as soon as they board the bus 🙂  Ask your coordinator about De Uijlenes' transportation options.
Stay in touch – For your most important guests, it's a good idea to speak to them individually about a suitable date and location for your wedding.  Beyond that, start a message group or social media page to keep people up-to-date with plans.  It'll make them feel involved and also help build the excitement as you get closer to the big day.