Is it your dream to have your wedding ceremony in a real forest?  Are images of Bella and Edwards wedding on repeat in your head? If you are wanting a Forest venue for your wedding, then you are guaranteed an epic ceremony backdrop.  
A forest wedding ceremony can be a magical and intimate way to celebrate your union with nature.  The serene atmosphere and the natural beauty of the trees and surrounding wildlife can create an unforgettable experience for you and your guests. 
Here are some reasons why you should choose to have a forest wedding ceremony:
1. Unique and Memorable Experience:
A forest wedding ceremony is an out-of-the-box choice, often chosen by nature lovers and couples seeking something different than the typical wedding venues.  We can create a memorable and unforgettable experience for you and your guests here at De Uijlenes.
2. Stunning Photos:
Forest weddings offer amazing natural backdrops, saving you on having to create that artificially.  It's impossible to beat something created by nature right? A forest wedding ceremony provides a stunning and picturesque backdrop for your wedding photos.  The natural lighting and surroundings can capture beautiful moments and create stunning images that will last a lifetime.
3. Eco-friendly:
A forest wedding ceremony is an eco-friendly choice that leaves little impact on the environment.  By choosing a natural venue, you are reducing your carbon footprint, and the natural surroundings can create an authentic and sustainable experience.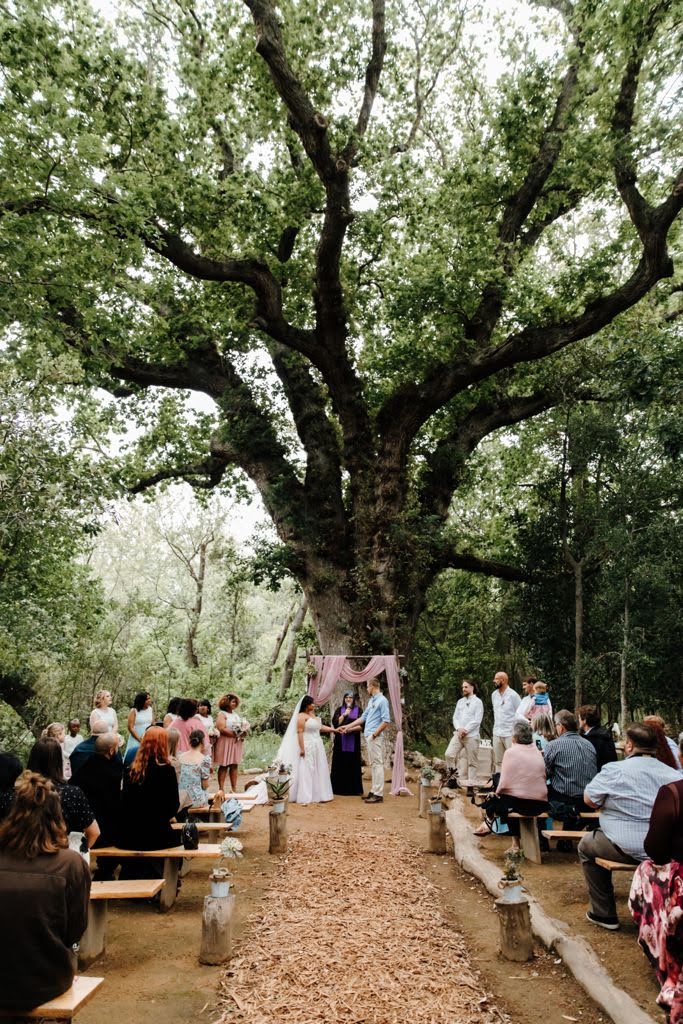 4. Intimate and Personal:
A forest wedding can create an intimate and personal experience for you and your guests.  The natural surroundings can help you feel more connected with nature and each other, and the private setting can create an emotional and spiritual experience.
5. Relaxing and Calming:
Being surrounded by all of that nature and the energy that the forest gives, relaxes your nerves and makes you more present during one of the most important and memorable times of your relationship.  Yes, it is true and it even has a name – Forest Bathing or Shinrin-Yoku as the Japanese call it.
In Japanese culture it is a time honoured practice that involves finding stillness and quiet in a forest.  This allows the soothing power of nature to calm your mind and nourish your soul.  Japan has even recognised it's medical benefits and prescribes Forest Bathing to patients suffering from high stress or anxiety levels. 
Just imagine, standing amongst some of the most majestic and beautiful trees in the Western Cape, and you are forming a bond with your soulmate, while those most important to you both are there to witness it.  And you are all there together, in nature – there is no way that this feeling and vibe can be created by anything but nature.
Come and visit our Forest and do some Forest Bathing…